Please CALL us to schedule a service appointment: 217-708-4110
Providing Service to Ford Customers in Effingham, Mattoon, Altamont, Shelbyville, Vandalia and Flora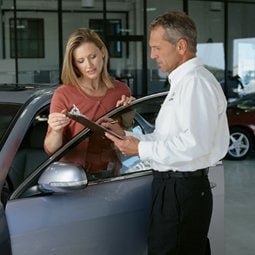 Like anything else you own, your car will perform better when it's properly cared for. An essential part of taking care of your Ford: routine maintenance. Keeping up with the service schedule in your owner's manual ensures your Ford F-150, F-250, Explorer, or Escape will run efficiently and safely.
A vast amount of work goes into caring for your car, Northside Ford Lincoln maintains an onsite auto service and repair department just for that reason. Staffed with mechanics that are trained to know Ford models and equipped with the same Ford parts that are used to assemble your car. This means you can count on "like-new" performance when you drive your car home.
As for what we can do for your car, that's up to you. Simply give us a call at 217-708-4110 to schedule a service appointment. Whether you're looking for something simple like replacing a battery or an oil change, or you need us to inspect your brakes or replace your tires, we're ready to help you get the most out of your Ford.
Service Hours
Monday

8am-5pm

Tuesday

8am-5pm

Wednesday

8am-5pm

Thursday

8am-5pm

Friday

8am-5pm

Saturday

8am-12pm

Sunday

Closed
See All Department Hours
Dealership Hours
Monday

8am-5:30pm

Tuesday

8am-5:30pm

Wednesday

8am-5:30pm

Thursday

8am-5:30pm

Friday

8am-5:30pm

Saturday

8am-2pm

Sunday

Closed
Parts Dept. Hours
Monday

8:00AM - 5:00PM

Tuesday

8:00AM - 5:00PM

Wednesday

8:00AM - 5:00PM

Thursday

8:00AM - 5:00PM

Friday

8:00AM - 5:00PM

Saturday

8:00AM - 12:00PM

Sunday

Closed
Service Dept. Hours
Monday

8am-5pm

Tuesday

8am-5pm

Wednesday

8am-5pm

Thursday

8am-5pm

Friday

8am-5pm

Saturday

8am-12pm

Sunday

Closed
Auto Repair Services
Oil Change
Brake Service
Battery Replacement
Filter Replacement
Tire Rotation
Wheel Alignment
Coolant Flush
Transmission Service
Spark Plug Replacement
Suspension Repair