Tired of searching all over Effingham, Mattoon, Altamont, Shelbyville, Teutopolis and Cowden for quality parts? Northside Ford Lincoln knows how you feel.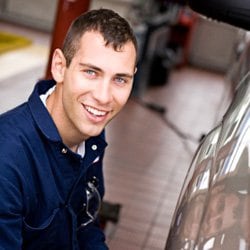 Which is why we have our very own Ford Lincoln Car Parts Center! The only thing more ambitious than taking on a D-I-Y project under the hood of your car is finding the right parts to pull the whole thing off. Or at least, it would be if you didn't have the Ford and Lincoln experts at Northside Ford Lincoln by your side. Our auto parts team is here  to make sure you find the exact part you need in order to ensure your car continues to meet your undoubtedly high standards. Why wouldn't you  use the same Ford or Lincoln parts used to build your model? Genuine parts at a great price. If you start your project and realize you may need some help, it is never too late to schedulea service appointment or give us a call.
Ready to put us to the test? Our online parts order form below is easy to use, and will help us locate the part(s) you need for your project. After you fill out the form, one of our parts experts will be in contact with you shortly just to make sure we have all of you information down correctly. And to see if we can assist in your service project in any other way!
You can count on "like-new" performance after installing our parts. So start the process below today!