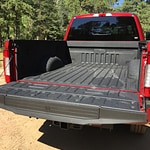 For the sake of living your best life in Effingham, it's wise to focus on what you need to truly perform at peak levels. In most cases, a heavy-duty pickup truck will answer the calling with a purposeful sense of commitment. According to widespread consensus, the statuesque Ford Super Duty is your best bet in this realm, particularly when it's time to overcome a challenging set of expectations.
Step up to the plate on behalf of your enterprise with Ford Telematics. This expansive technology demonstrates immersive integration across envoys to make massive coordination efforts seem like cake. Streamlined mapping protocols mesh with futuristic communication outlets to usher fascinating industrial advancements.
Three slick cab choices are available beyond the standard model. Depending on your requirements, you may select between the Crew Cab, the SuperCab and the Chassis Cab. Amazingly, Northside Ford Lincoln crafts thorough test-driving rundowns for interested audiences who want a sneak peak of each trim.