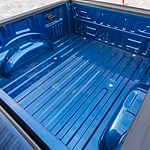 Ford remains a company that prides itself on manufacturing tough trucks. The full-sized Ford F-150 might be among the company's toughest. The durability and capability of the steel-framed vehicle contribute enormously to the pickup's popularity, as they should. Buyers interested in a truck capable of handling rough terrain and challenging jobs will appreciate the F-150.
A military-grade aluminum alloy comprises the bed and body, making the vehicle incredibly durable. The alloy combined with the steel frame makes for a powerful exterior.
Ford did more than pack the F-150 with durability features. The company tested the pickup truck on the road and subjected the vehicle to tough conditions. Ford made sure to release a pickup truck that could handle all kinds of off-road and other travel concerns.
Pickup truck buyers interested in seeing what the Ford F-150 can do should visit our location in Effingham. At Northside Ford Lincoln, we encourage visitors to take the F-150 on a test drive.